Last week, I began reviewing the comprehension strategy: making connections (mainly text to self). This strategy is essential to enhance student understanding while reading. Since all of my students are "at risk" anything that I can do to engage the students is key. Linking the text to events from my students lives is one way to increase their understanding.
To introduce the topic, I read the book
The Relatives Came
by Cynthia Rylant to the students. Since I working in small groups that amount to around 20 minutes each it took several days to read the entire story and discuss student connections.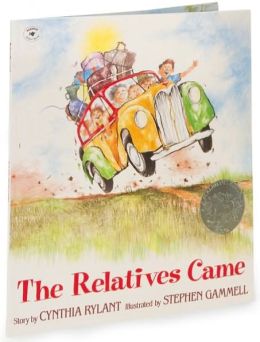 This is a great book to use when doing TEXT to SELF connections. Most students have had interactions with family, or traveling (even if it is just a short trip). With some students it is really hard to get them to vocalize their connections for many different reasons. One of the major obstacles that I face is limited language. There are times were I really have to stretch the text to link it to a student's life.
I love to use music to reinforce concepts that I am teaching so I was so excited when I stumbled upon songs that teach reading comprehension strategies by
One Extra Degree
. I really like that she used tunes that the kids already know so it is easy to sing not only for the kids but for me as well. (my picture was not cooperating tonight)
I decided to create a little book to assess my students understanding of the "connections" strategy. I created two different versions for students. One book requires students to write a response and the other book allows the student to draw a picture of the connection. Click the picture below to grab your freebie!
My students have begun reader's notebooks so I made a little cheat sheet to insert in their notebooks to accompany the other work we do with connections.
I am linking up with Manic Monday at Classroom Freebies to share my new creation.
I hope you enjoy this freebie!! Please leave a comment and share your thought and ideas on teaching text connections. I love new tips and tricks:) I hope everyone has a great week!
Until next time,